Art of Healing Course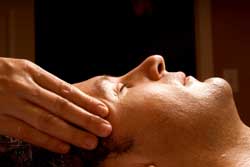 The Art of Healing Course is a 12 day course over a 13 day period designed to supplement whatever modality of healing you are currently practicing (Massage Therapist, Physical Therapist, Chiropractor, or any other healing or body-work practitioner). It's focus is on using MicroCurrent and Bodywork Modalities to improve your client's health and well-being.
Note: Please visit our other courses page if you are interested in more specialized training of shorter duration. We now have our 3-day "Neck, Pec and Jaw" short course for massage therapists, as well as our 5-day "Massage Training For Everyone" short course. Both of these compact courses are very affordable and they will provide you with enough knowledge and techniques to genuinely enhance your healing practice and/or your relationships!
The following is a list of common issues you will learn to treat in the Art Of Healing Course:
Issues

Methods used

Avoiding Surgery:

Back (Herniated and Slipped Disks)

Bodywork

Knee (All types)

Bodywork

Wrist (Carpal Tunnel and injuries)

Bodywork

Jaw (TMJ and injuries)

Bodywork

Shoulder(Rotator chuff, and injuries)

Bodywork

Hip replacement

Bodywork

Curled fingers and toes

Bodywork

Post Surgery:

Back Rehabilitation

Bodywork

Knee Rehabilitation

Bodywork

Wrist Rehabilitation

Bodywork

Disk Rehabilitation

Bodywork

Shoulder Rehabilitation

Bodywork

Hip Rehabilitation

Bodywork

All Joint Pain:

Arthritis

Bodywork

Bursitis

Bodywork

Stiffness

Bodywork

Lyme's

Bodywork

Injuries

Bodywork

Injuries:

All Sports Injuries

Bodywork

Auto Accidents

Bodywork

Wound Healing

 QXCI

Repetitive Strains and Sprains

Bodywork

Auto immune:

Strokes

Bodywork

Chronic Fatigue Syndrome

Bodywork

Fibromyalgia

Bodywork

Chronic and Acute Pain:

Headaches / Neck / Shoulder

Bodywork

Arms / Elbows / Hands / Fingers

Bodywork

Legs / Knees / Feet / Toes

Bodywork

All Joints

Bodywork

Lack of Range of Motion:

Neck / Shoulders / Elbows

Bodywork

Hand / Fingers / Wrist / Arms

Bodywork

Hips/ Knees / Ankles

Bodywork

Feet / Toes

Bodywork
Course Includes:
The following course modules: Hands-on Bodywork, Lectures, Supplementation, Diet, Info on MicroCurrent Therapy.
Sessions will be held 6 days per week. Students may take half a day on Saturday and Sunday off to enjoy the many recreational opportunities around New York. The exact times of sessions will be 9AM to 3PM on the week days and 10-12:30 on Saturday.
All of Brian's students have come away from the Art Of Healing course with new-found skills for assessing each client's unique physical condition, tapping into the body with specific modalities to facilitate healing like never before, and being able to help more people as a result. You too can develop these skills. Your ability to read and assess the body will be greatly improved, enhancing your talent for tracing the source of problems and correcting the issues in the body at their source.
Classes will consist of a minimum of 6 students and a maximum of 12 students in order to maximize personal instruction. Please register early in order to avoid disappointment.
Early Bird Special:
Cost: 13 day course, 6 days per week in New York (84+ hrs.): $1,950 USD
Starting dates for next "Art of Healing" course: TBA